Filter
Open
December 2018
1. Draft Amendment to the Patent Law passed at the executive meeting of the State Council.
2. Facilitation of TM Registration
3. China's Top 10 Patent Agencies in 2018
4. China's Top 20 corporate applicants of PCT international patents
5. Joint notice issued by 38 government departments on joint punishment against entities of bad-faith in the IP field
Draft Amendment to the Patent Law passed at the executive meeting of the State Council
Draft Amendment to the Patent Law of the People's Republic of China was passed at the executive meeting of the State Council, chaired by Premier Keqiang Li, on December 5th.

The Draft imposes tougher punishment against IP infringement. Damages and fines for willful infringement and passing off of patents are dramatically increased for better deterrence.

The Draft clearly provides that an infringer shall bear the burden of proof in respect of submitting relevant materials, and online service providers shall undertake joint liability for failure in preventing infringing acts in a timely fashion.

The Draft also introduced a motivation mechanism which enables inventors and/or designers to obtain reasonable shares of profits from their service inventions, and it also revised the patent licensing system.

For the moment, there's no official saying on how long will it take for the draft to be implemented. Sanyou will follow this up and keep you updated.

Facilitation of TM Registration

CNIPA has been adopting reform measures to facilitate TM registration since the start of the 2018.

The average examination period for trademark registration has been shortened to 5 months and 28 days.

According to CNIPA's statistics, the number of trademark registration applications field in January to October 2018 was 6.017 million, marking a year-on-year increase of 36.4%.

By October 2018, the total number of trademark applications reached 33.86 million, the total number of registered trademarks reached 21.063 million, and the number of valid trademark registrations was 18.351 million. On average, every 5.9 market entities had one valid trademark. 4718 geographical indication trademarks were registered. The number of TM registration examinations was 6.072 million, marking a year-on-year increase of 87.07%.

The examination periods for the following items are reduced to 1 month:
• domestic and international TM modification and renewal, and
• issuance of Notice of Acceptance for TM registration and TM rejection review.

The examination period
• for TM transfer has been shortened to 4.5 months,
• for territory extension for Madrid International TM application has been shortened to 6.3 months, and
• for TM international transfer has been shortened to 3 months.

The examination period for three-year nonuse invalidation has been shortened to 8 months.

The blank period for trademark search is kept within 10 days.

From January to October 2018, China has filed 4,640 international trademark registrations under the Madrid system, ranking third in the Madrid Union. By October 2018, the number of valid Madrid International Trademark Registrations of China reached 30,152.

China's Top 10 Patent Agencies in 2018
On November 15th, the GIPC 2018 (Global Intellectual Property Ecology Conference), jointly sponsored by IPRdaily and the Capital Intellectual Property Service Association, listed China's Top 10 Patent Agencies in 2018 as below:

Unitalen Attorneys at Law
China Patent Agent (H.K.) Ltd.
CCPIT Patent & Trademark Law Office
LIU SHEN & ASSOCIATES
Beijing Sanyou Intellectual Property Agency Ltd.
Scihead IP Group
Kangxin Partners, P.C
Advance China IP Law Office
Beyond Attorneys At Law
Lung Tin International Intellectual Property Agent. Ltd.

China's Top 20 corporate applicants of PCT international patents
According to WIPO's statistics, China's PCT international application filing has increased from 18, 000 in 2012 to 48,000 in 2017, growing at an annual rate of 21.3%.

The number of PCT international patent applications in China exceeded that of Japan in 2017, ranking second in the world.

Below is a list of China's Top 20 corporate applicants of PCT international patents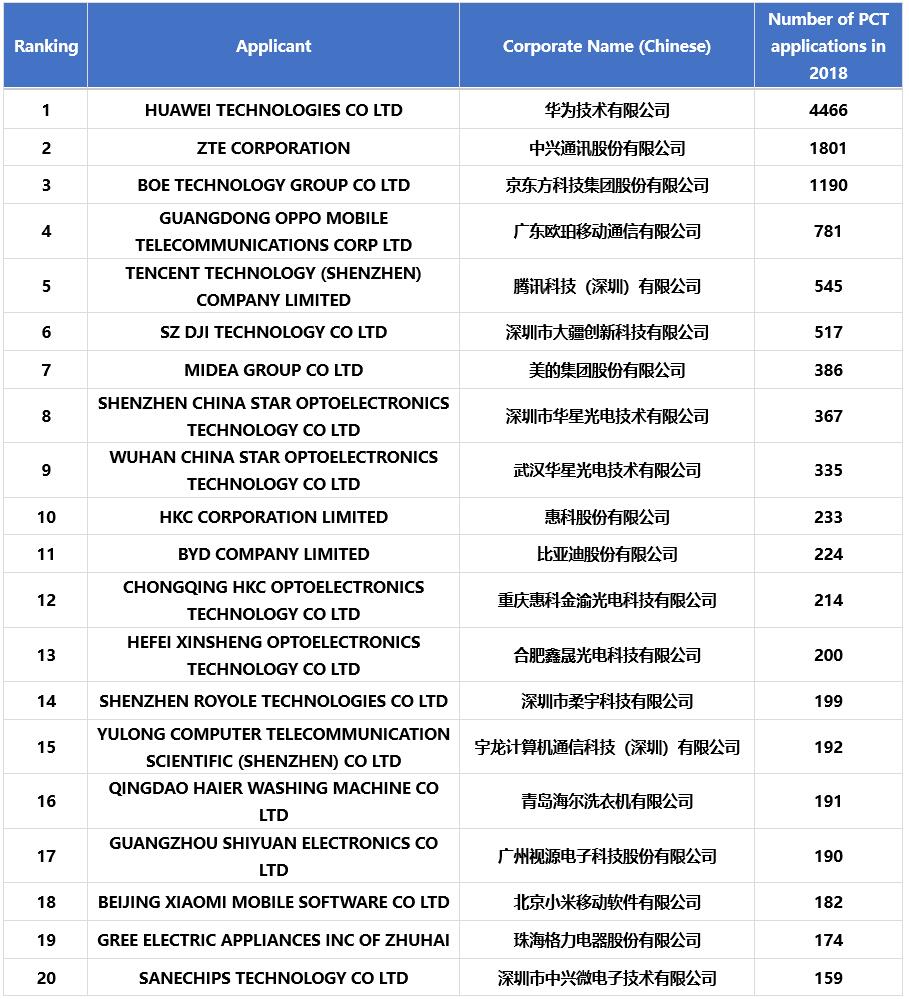 Joint notice issued by 38 government departments on joint punishment against entities of bad-faith in the IP field
The joint punishment is targeted at those involved in bad-faith behaviors in the IP field.
• For a legal person, such targets include the legal person and its actual controller, legal representatives, principal heads or the persons who are held actually responsible for act of bad-faith.
• For a non-legal person organization, the organization itself and its heads shall be deemed as targets of joint punishment.
• For a natural person, the target is the natural person.

Acts of bad-faith in the IP field include:
1. repeated acts of patent infringement;
2. refusal of enforcement;
3. serious violation of law in patent agency;
4. Illegal use of Patent Agent Qualification Certificate, such as selling, leasing, or lending of such;
5. abnormal patent application; and
6. providing false documents.

Measures of joint punishment include:
1. punishment imposed by CNIPA, which will cancel the qualifications of patent enforcement high way, and IP-related certificates or recognitions; and
2. cross-departmental punishment, which encompasses fiscal, financial, administrative sanctions, and even social constraints.

© Copyright,All rights reserved. Beijing Sanyou Intellectual Property Agency Ltd.

Related Newsletters